To the new Duke & Duchess of Sussex; your life is a fairytale and your wedding was absolute perfection.  Thank you for showing us that LOVE really is the way and truly change the world. I truly believe that the two of you together will make the world a better place.
So I am clearly still on a high from yesterday's events. Yes, I woke up at 4 AM. Yes, I realized nothing was really happening yet and fell back asleep. However, I did not miss any of the important stuff. And yes, I cried. That ceremony was SO beautiful! From The Kingdom Choir to Bishop Curry, the bridesmaids and page boys, it was so unique and from what I know of them, perfectly Harry and Meghan.
First things first…THE CEREMONY DRESS.  Classic. Timeless. Chic. It was everything. Then there was the veil. Meghan had her designer include flowers from the 53 countries of the Commonwealth in the embroidery of her veil. It was truly a showstopper. The official Royal Family website listed what flower represents which country. Such a special touch.
Even the sketches that the designer, Clare Waight Keller, creative director for Givenchy were stunning. The simplicity of her dress really lets the veil steal the show!
Now, even though I'm still SWOONING over Meghan's look of natural makeup, her iconic messy bun (my personal favorite!), the tiara, (don't worry I'll get to that) and her FIRST dress, the ceremony was historical in and of itself.
I could write an entire post about the precious way they held hands during the entire ceremony or the lovingly way they would just look at each other. It melted my cold heart into a puddle. Someone, please find me a man that looks at me the way Harry looks at Meghan…my goodness. My favorite romantic moment…right before Harry lifted up her veil, he said "You look amazing. I'm so lucky." (and bit his lip. OMG. All the feels.) I've watched this over and over and never get sick of it. I mean just look at how happy they are?! How can you not love them?
As for the sermon, can I book Rev. Michael Curry to preach to me every day?!?! He was incredible! And watching the Royal Family's faces while listening to his sermon were completely priceless. Honestly, they need some more of Rev. Curry to lighten them all up! Here is the entire sermon. It will move you. It will give you goosebumps. And it will make you truly believe that LOVE CAN CHANGE THE WORLD. And it will.  It was beautiful.
Then, there was The Kingdom Choir and their moving rendition of "Stand By Me." Just watch the performance and the beautiful humans who were a part of it. Those outfits! It will truly give you all the feels. You may even shed a tear. Obviously, I did. (And now I'm listening to it again as I write this. I can't get enough.)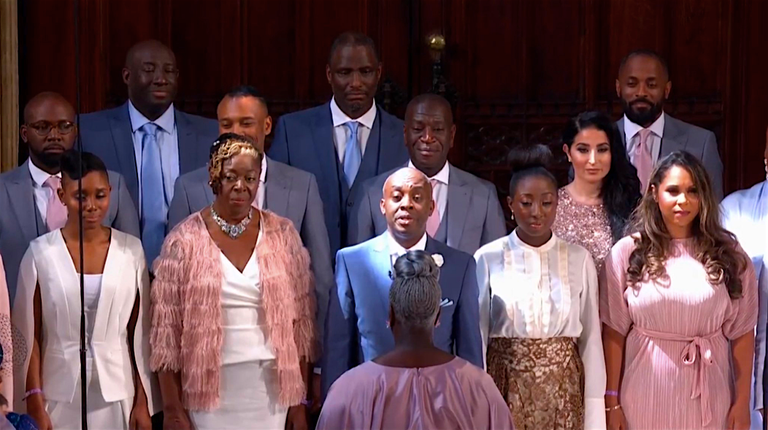 So the dress was perfect, the ceremony was perfect, the weather was perfect, it was literally a fairytale day. But let's talk about the tiara she wore. It was borrowed from Queen Elizabeth. Ohhhh that tiara! Her Royal Highness the Duchess of Sussex, Princess Henry of Wales, wore the Filigree tiara, which belonged to Queen Mary, Queen Elizabeth's grandmother. It is also known as the Diamond Bandeau Tiara and was created in 1932. The center is even a detachable broach because of course, it is!
This slideshow requires JavaScript.
I could clearly go on & on about all the details of yesterday. But I will end this already long post on the note of Meghan's evening dress. And the fact that she was wearing an aquamarine ring that was once Princess Diana's(!!!!) And hot damn, was it gorgeous! I mean check out that BLING! And the dress, again, could she be any more perfect?! Add in that hairstyle, the earrings, and that ring and you have a look made for an American Duchess! All the style goals! And does Harry not look like ginger James Bond?! So handsome.
This slideshow requires JavaScript.
So I'm done for now. I think. I'll still need a few more days to process everything that happened and stop being completely jealous. So cheers, to the Duke & Duchess of Sussex!
For more official videos and photos, check out the Kensington Palace Instagram
**All pictures used are from Vanity Fair's Vanities section on the Royals and Kensington Palace's Official social media accounts**